Introduction to the Care Guide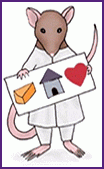 As a rat owner it is important to embrace all aspects of rat care. Included in the Care Guide section of the Rat Guide, are many topics that will help you to provide your rat with its entire husbandry needs. Most of the information in this section is from firsthand experience coupled with research to give you the best possible information.
You will find some links throughout individual sections when referring to a specific brand, type, or site, listed for your convenience.
When you have finished reading the basic care provided here, and you would still like more facts about rat care, visit: "The Wererat's Lair" at https://wererat.net/rathelp/. Many of the answers given out to Rat-Help questions over the years are listed there.
If you still have a rat related question that you are unable to find an answer to, or if your question is of a more immediate nature and requires a timely response, email: Rat-Help.
The information and links provided here are by no means meant to replace that of a qualified veterinarian trained in the care of pet rats. Please consult with a veterinarian if you think your rat shows signs of illness or injury.