Lafeber's Rascally Rat Nutri-Berries®:
A Nutritionally Complete Foraging Food
The Lafeber Company, long known for their Nutri-Berries® for birds, now specializes in a small mammal diet. Rascally Rat Nutri-Berries is a nutritionally complete staple diet that has been developed by exotic veterinarians and nutritionists for adult rats.
The designed nuggets include 67% fortified pellets, whole grains, bits of bananas, cranberries, and peas, all of which are human-grade and non-GMO. They contain all-natural coloring, flavors, and preservatives, and their low calories help to keep rats at a healthy weight. The nugges are baked at low temperatures to retain their original nutritional value.
The company is family owned, and was started by veterinarians Dr. T.J. Lafeber, Sr. and son Dr. Ted Lafeber, III, who is now President of the company.
The hand-inspected food is prepared under strict quality control, under one roof, on the Lafeber family farmland. The ingredints that make up Rascally Rat Nutri-Berries, along with analysis showing percentages, can be readily and easily obtained on their site.
Recommended feeding for rats is a diet of 80% NutriBerries, 20% fresh fruit and veggies, and fresh water for drinking. The feeding directions based on the weight of the rat is located on their site.
Rascally Rat Nutri-Berries was specifically designed for the adult (non-pregnant) rat. Its Crude Protein is 11%, which is ideal for the maintenance of kidney health (in males especially), as well as being low in sodium (percentage being 0.16%). It also has a lower number of calories per ounce than lab bock.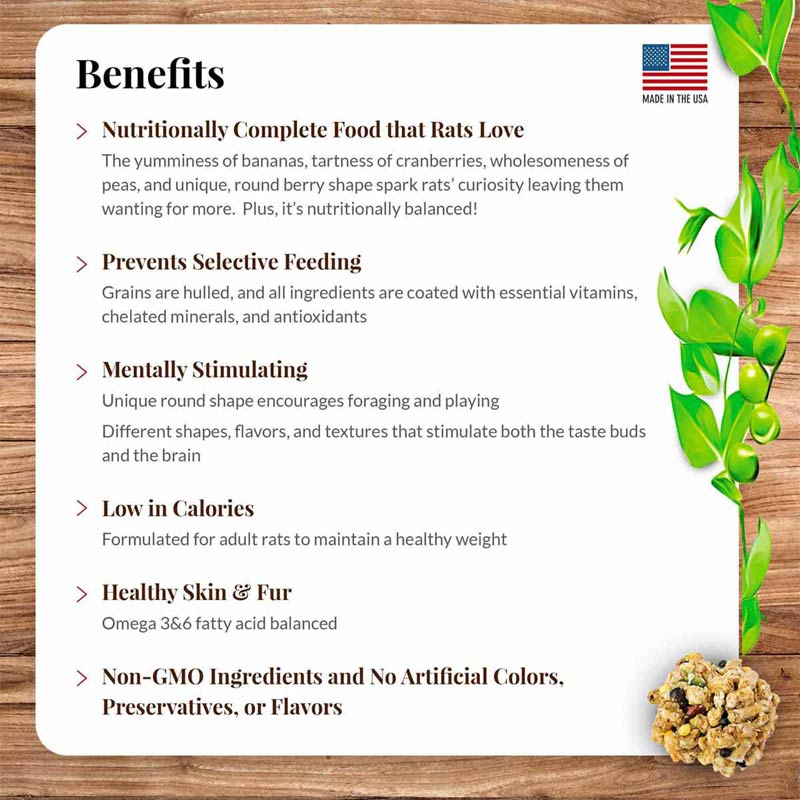 Kirk Klasing at UC Davis, a world leading animal nutritionist, used the nutritional requirements from the National Research Council as a baseline to create Rascally Rat Nutri-Berries. The veterinarians Lafeber consulted with wanted a low energy, high fiber diet since obesity is a common problem among pet rats, which makes them more susceptible to cancer and other weight-related diseases. By leaving out the extra protein and caloric ingredients that a diet created for a lab setting or for young rats would contain, Lafeber was instead able to design a staple diet that can provide a lean healthy body weight in adult rats.
Dr. Ted Lafeber and Dr. Thomas M. Donnelly, DVM, confirm that Rascally Rat's 11% protein is sufficient as a complete diet when following the amounts Lafeber has listed, per rat, on a daily basis. Lafeber does take into account some waste with their feeding guidelines, so even if rats do not completely eat all their daily Nutri-Berries, they will be fine.
Alternative Feeding Suggestions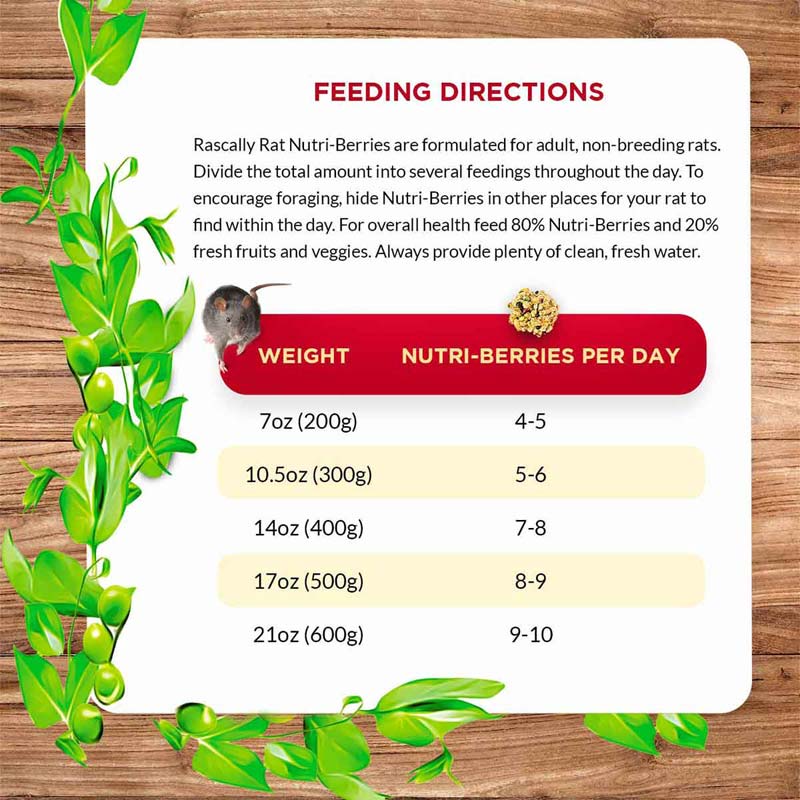 Rats do tend to be neophobic about new foods. When switching from a previous diet to Lafeber, Rat Guide suggests to slowly introduce them to the Rascally Rat Nutri-Berries as a foraging treat first, while also providing the rat's usual base food, and their daily intake of fruits and veggies. Rascally Rat Nutri-Berries can then slowly replace the usual base food as their staple diet, using the feeding directions on Lafeber's packaging.
Since Rascally Rat Nutri-Berries are designed for a lean body mass, that means watching the nutritional balance of the overall diet becomes more important if your rat is going be breeding, nursing their young, or is in the first 8-12 weeks of their life. During these life phases, a rat's body needs more energy, so the   energy   concentration   of   the food   needs to   be   higher. But feeding Rascally Rat Nutri-Berries can be done for young rats if you provide them 50% Nutri-Berries + 30% lab block/Oxbow/another complete diet + 20% fruits and veggies.
Note:  Rat  Guide  does  not  recommend  feeding  more  than  20%  fruits  and  veggies  of  the  total  diet.
Storage Recommended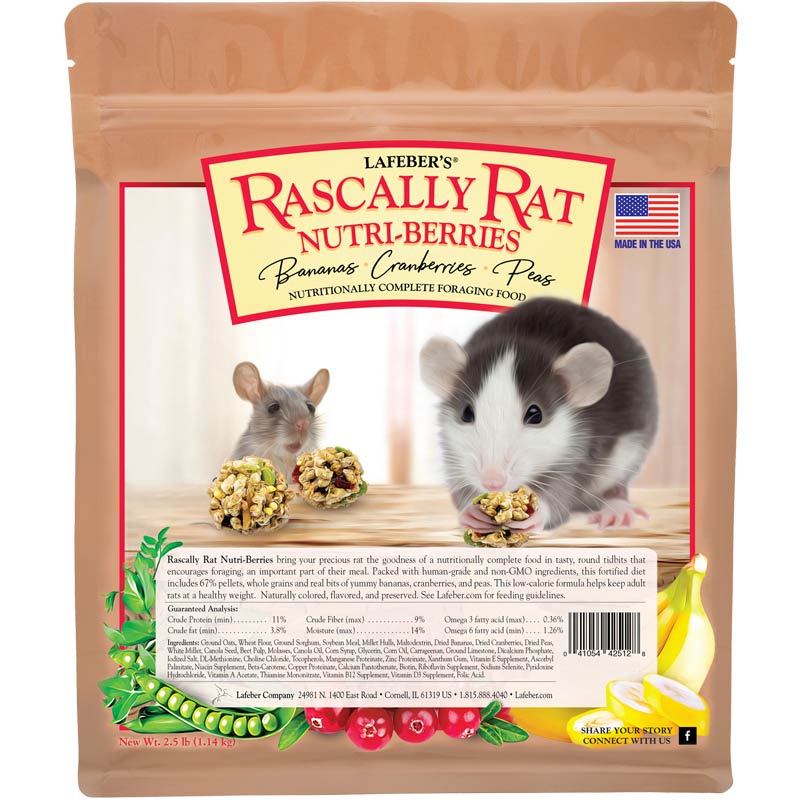 This is a dry food, so we recommend storing them in a dry place. Refrigeration would also be fine. Studies, however, have not been done on freezing the food. Both the 10 oz. and 2.5 lb. sizes come with a zipper closure to keep the bag sealed shut. Doing so will help them last until the expiration date, which is usually about 18 months.
Where to Buy
You can order Rascally Rat Nutri-Berries directly from Lafeber, or you can also find it online through Chewy and Amazon. It is also sold locally in diffrent shops around the US.
CA:
Henco Pet Vet Distributors, Sun Valley, CA
Soldan's Feeds & Pet Supplies of Lansing, Sun Valley, CA
Watkins Pet Supply, Chester, CA

CO:
Pet World of Lakewood, Lakewood, CO

GA:
Bubba's Pet Emporium, John's Creek, GA

IN:
Greentree Pet Center, Clarksville, IN

IL:
Sailfin Pet Shop Inc., Champaign, IL

KS:
Laura's Critter Corner, Park City, KS
Pet Life by Roberts, Salina, KS

MA:
Falmouth Pet Center, Falmouth, MA
Pets Pets Pets, Westford, MA
Park Avenue Bird & Pet, West Bridge, MA

MD:
Bowman's Feed and Pet, Manchester, MD

MI:
Kee's Aquarium & Pets, Washington, MI

NC:
JL Elite Feed & Seed, LLC, Marshville, NC

NE:
Pets R Us, Omaha, NE

NH:
Pawtuckaway Pet, Raymond, NH

NJ:
Farmside Supplies, Sussex, NJ

NY:
Aardvark Pet Supplies, Pleasantville, NY
Bensons Pet Center, Clifton Park, NY

OH:
Pet Finatics LLC, Oregon, OH
It's All About Pets, Toledo, OH

PA:
Pets in the Park, Butler, PA

TN:
Franklin Aquarium Pet Shop, Columbia, TN

UT:
Animal Ark American Fork, American Fork, UT

WI:
Jo's Exotic Birds, Ltd., Kenosha, WI
Pulaski Warehouse, Inc., Pulaski Chester, WI
Endorsements: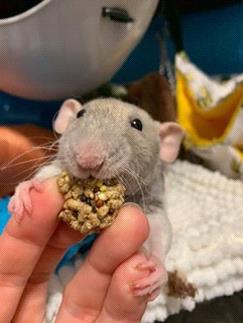 "I really like Nutri-Berries for rats and I am very happy to endorse Emeraid Products [a division of Lafeber for sick animals] I met Dr. Ted Lafeber, the president/CEO at an ICE Conference (these were the very first exotic animal conferences put on) in Florida. My friend and colleague Dr. Cyndi Brown, an avian veterinarian introduced me to Ted and Christa his wife. We talked a lot about nutrition of pet exotics. His main focus at that time was Lafeber bird feeds, but he wanted to produce high quality feed for exotic mammals and reptiles, as well as birds. Over the years we have discussed ingredients that rats might like, I have given Ted the National Academy Press Nutrient Requirements of Rats (4th ed, 1995) and he has used a PhD nutritionist to make sure all the ingredients are appropriate, adequate and balanced. Ted uses high quality sources of feed for proteins, fats and carbohydrates. I cannot tell you how important this is. As you know, two big problems in pet rats are obesity and high protein diet leading to kidney disease. That's why I don't like laboratory rat  blocks  as  a  food. They are designed to provide maximum nutrition and maximum nutrition as most laboratory rats are used experimentally when they are young. There are actually special diets for colonies of ras on aging studies that avoid the metabolic and other problems of standard rat blocks.
Ted formed the idea for Nutri-Berries after Dr. Cyndi Brown and I told him how we gave pet rats and mice (plus gerbils and hamsters) Nutri-Berries for birds and the animals played with them, nibbled them and ate them. I thought they were a good environmental enrichment as well as a food. As we know sometimes small pet rodents won't eat while in hospital, so anything that encourages them to eat is good."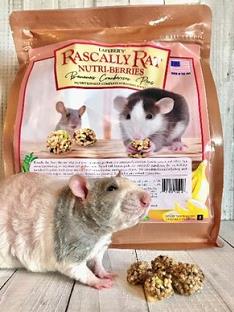 Thomas M. Donnelly, DVM
Thomas M. Donnelly, DVM is board certified in American College of Laboratory Animal Medicine, Laboratory Animal Medicine; American Board of Veterinary Practitioners, Exotic Companion Mammal; and European College of Zoolgical Medicine, Small Mammal Medicine. Besides being a consultant for the Rat Guide and the Veterinary Information Network, he  is  also  a  research  professor  in  exotics  service  at  the  French  National  Veteriary  School  at  Alfort,  Maisons-Alfort,  France.  Plus,  Tom  is  the  author  of  over  100  scientific  and  clinical  publications.
---
"I recommend Rat Nutri-Berries to all of my rodent patients.  I have owners utilize it as a balanced diet for mice, rats, hamsters, and gerbils. I encourage owners to supplement with fresh vegetables for additional enrichment and healthy nutrition. For the guinea pigs and  chinchillas, I  use the Rat Nutri-Berries as treats. It is so nice to have a healthy alternative for pet owners to feed."
Cyndi Brown, DVM
Avian  and  Exotics  Department  The  Animal Medical  Center
---
"I've been feeding my boys Lafeber's Rascally Rat Nutri-Berries, along with the Suebee's Diet I make them, since 2019. The rats weren't sure what to make of it at first, but now I find that they always choose the Nutri-Berries over the homemade food first. What I like about the Nutri-Berries, is that it's low calorie and made with human-grade, non GMO ingredients like peas, bananas, and cranberries. It is honestly the first commercial brand of rat food I've been willing to feed my rats  in  almost a  decade!"
Brandi Saxton
Editor of It's a Rat's World magazine
The rats from It's a Rat's World trying out Rascally Rat Nutri-Berries for the first time.
Courtesy of Brandi Saxton
Compiled by: Karen Grant, RN, Brandi Saxton of It's a Rats World Magazine, and
Nadine Lafeber, with permission of Lafeber Company. Consultant: Thomas M. Donnelly, DVM