Introduction to the Health Guide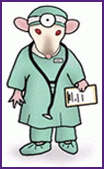 We hope that you will find the Health Guide section of the Rat Guide a useful tool. It is our intention that the information in this guide be for learning purposes only. Please take any rat that is ill to your veterinarian for evaluation, diagnosis, and treatment options.
We have set this up to make it as easy as possible to find the information you may need by using alternative indexes as well as a search tool.
If you have any comments, suggestions, or wish to submit a case history please contact the Rat Guide administrators.
Articles
This guide contains in-depth articles on illnesses seen in pet rats, along with signs, symptoms, case histories, and treatment modalities that your veterinarian may follow. Here you will also find nursing care essential to treating illness and injuries.
These articles are designed to help rat lovers become more knowledgeable in their physical assessment of their pet rats and aid them in seeking care from their veterinarian sooner.
It is important to learn what your rat's normal behavior and appearance is like so that you can spot the signs of illness should they appear. Rats have a high metabolism and illnesses can overtake them quickly. Please don't delay in taking an ill or injured rat to the vet.
Case histories and photos
There are graphic photos that have been included, at times, to assist the reader's better understanding. Some of these photos could be disturbing to some viewers. Please read the description before opening the link to these photos.
The case histories and photos have been graciously submitted by pet rat owners and can be a very useful tool for identifying and understanding the medical concerns of our rats.
Links
Included are links to other useful medical resources including the Rat Medication Guide. Also there are links to the list of Rat Health Guide contributors as well as to the references used in the making of this guide.
Submissions
We welcome submissions of case histories. Case histories and/or photos will be credited on the Health Guide contributor page. Any case histories or photos submitted will become the property of the Rat Guide and
Karen Grant, RN.