Figure 3: Cataract in 20-month-old rat
Case history and photo
History
Sealpoint Siamese dumbo male, inbred line – DOB – 10/20/02.

Pet rat housed with 2 other males in a Martin's 695 cage.

Genetic background of rat – Sealpoint Siamese breeding, tracked from grandfather, mother and littermates (approximately 50% cataracts in litter – 4 of 9). Time of onset unknown (photo at 20 months old). Two siblings developed first signs of cataracts at approximately 6 months of age.
Clinical signs
Yellow-white eye centers – apparent severe reduction in sight. Appears to be simple dominant gene.
Diagnosis
Cataract
Treatment
Supportive caging for safety. Maintained on healthy diet. Aggressive treatment deemed not to be a viable option.
Outcome
Healthy for age.
Photos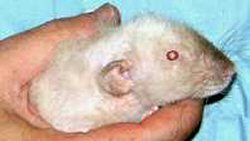 Photo 1: Side view of eye with cataract.


Photo 2: Enlarged view of eye with cataract.