Figure 1: Ringtail in adult rat
Case history and photos
Clinical Signs
The rat shown below is a 1½-year-old female that presented with a dark circular ring around the distal portion of the tail. She was part of a colony of approx 60. Interestingly only this rat presented with this condition.
Diagnosis
Diagnosed with ringtail.
Treatment
A dehumidifier that was already present in the room with the colony had been kept in the range of 50-60%. When the classic sign of ringtail was observed, it was raised up to to 60-70 % humidity. Olive oil was then applied to the tail twice daily for several weeks.
Outcome
The outcome following treatment was resolution of the ringtail.
Photos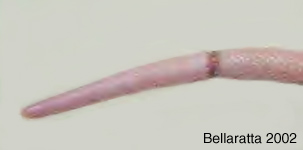 Photo 1: Note the dark concentric ring or constriction seen around the tail.


Photo 2: Additional view
Photos courtesy of Bellaratta's Nest Rattery