Figure 2: X-ray image of pelvic and femur fracture in young female rat.
Case history and photo
History and Diagnosis
The photo below is a whole body X-ray of a young female rat showing fractures occurring in four places to the pelvis, and a complete femur fracture.

The fractures occurred when she was accidentally stepped on during free range time.
Treatment and Options
Treatment was discussed with the veterinarian, and it was determined that surgery would cause her more trauma than just leaving her alone to heal. It was felt that because they're so light she would heal fine without the surgery. It was also felt that due to this type of injury and treatment that it was best not to give her any pain medications so that the pain would keep her from moving around, thereby allowing her to heal more rapidly.

*Please note that the type and severity of a fracture, as well as history, will determine which treatment may be best.*
Outcome
In a weeks time she was up and running around without further complications.
Photo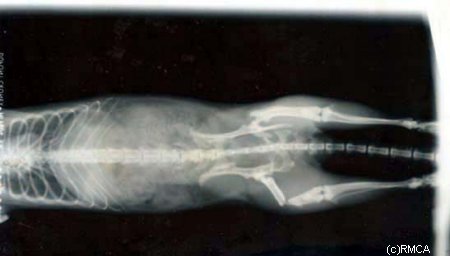 Photo 1: Note the breaks in the pelvis and the break in the bone (femur) of the leg.
Photo courtesy of the Rat & Mouse Club of America