Figure 2: Pituitary gross anatomy (normal and neoplastic)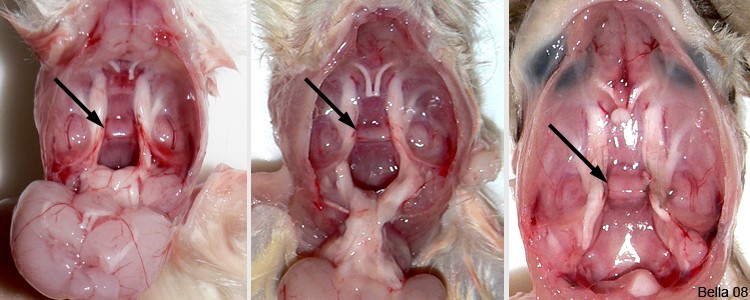 The above photos are from young rats ranging from 2.5 – 8 weeks of age. At this stage of development the pituitary gland is small and pale pink in color. It lies in a small depression called the sella turcica which is Latin for "Turkish saddle".


The above photos show normal pituitary glands in adult rats.
The color of the gland, as the rat matures, tends to darken. In some cases the darkening affects the entire gland and in others it is partial. A normal pituitary gland in an adult rat will not protrude significantly above its location in the sella turcica.


The above photos show abnormal pituitary glands.
The photo on the left shows early stage of pituitary neoplasia. The gland is enlarged, darker red, and now protrudes above the sella turcica. The middle and right photos are of late stage pituitary tumors.
These tumors became so enlarged that they displaced brain tissue and formed permanent brain depressions.
Necropsy photos and text by J. "Bella" Hodges