Figure 4: Tumor
Case history and photos
History
The following photo shows a tumor removed from a 300 gram , pink eyed white (PEW) female rat, age 1 year 2 months.
Clinical Signs
The growth first appeared in the lower portion of the belly and just in front of the hind leg, about two months prior to its removal. It had an almost flat appearance and was approximately the size of a pea when first noticed.
As it continued to grow it felt very soft and squishy, and hung down significantly which affected the way the she walked.
Diagnosis
Mammary tumor
Treatment
Increasing concern that the tumor may ulcerate prompted the removal at this stage.
Outcome
The tumor removal, as well as the recovery period, went without any untoward affects. Following surgery, butorphanol was given for pain, and she was placed on antibiotics.
Pathology was not done at this time.
Photo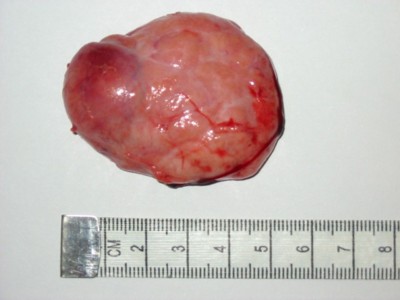 Photo shows size of tumor in centimeters that was removed from the groin. It was reported as having a large blood supply.
Case history and photo courtesy of Andrea March