History
The litter consisted of 3 pups: two stillborns and one survivor whom the owner named "Sisu."
Birth Injury
The surviving pup was injured by his mother shortly following his birth.
During cleaning the dam bit off all the toes on his back feet as well as part of the feet.
Treatment
Sisu was taken to the veterinarian so that the extent of the birth injury could be assessed. One of his rear feet was showing signs of infection.
The owner was advised to soak the injured areas in a solution of warm water and Epsom salts to draw out the infection and aid in healing. His feet were soaked twice a day.

The pup's mother took extremely good care of the pup after the injury and showed no signs of rejecting him.
Outcome
Sisu's stumps were cleared of infection and healed well. He has continued to thrive and gets around quite well.
Photos of Sisu's injury, treatment, and recovery.


These photos show Sisu at 10 days of age. As you can see he is missing all the toes from his back feet as well as most of the actual feet. There is scabbing on the foot stubbs and you can see the inflammation of the left foot.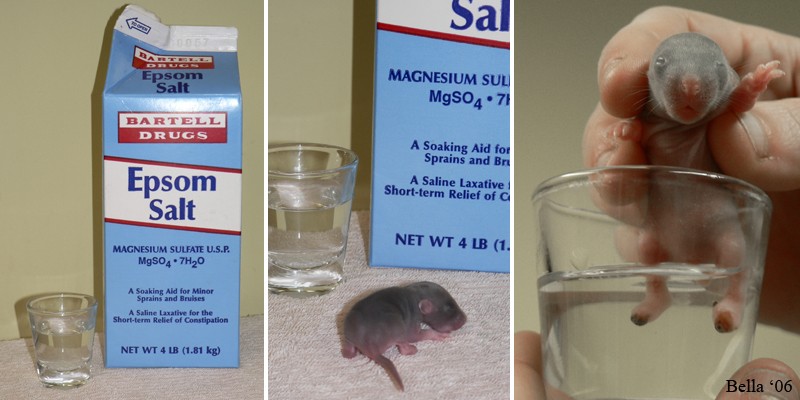 The above photos show the supplies used for Sisu's therapeutic soaks and Sisu in the process of having his "feet" soaked.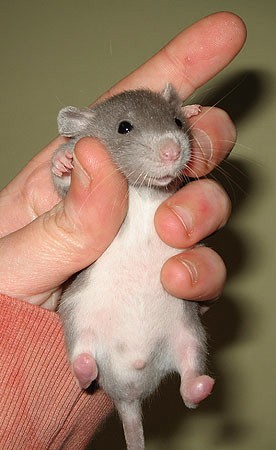 This is Sisu all healed up. The scabs have come off and the infection has been resolved.
Case History and Photos by:
Lynn Rosskamp of ROUS Rattery and Joanne "Bella" Hodges.