Figure 2c: Retrobulbar abscess in female rat (Alexandria).
Case history and photos
History
Alexandria, a 1 ½-year-old blue female.
Clinical Signs
Slight bulging of the right eye.
Diagnosis
Bacterial infection versus tumor.
Treatment
Alexandria was taken to the veterinary clinic where she was placed on antibiotics in the hope that what she had was an infection rather than a tumor. Unfortunately it is difficult to determine based on just a physical exam which one it may be.

She was placed on several different antibiotics at a high dosage over a 4 week period, in an attempt to resolve the possible infection. The first antibiotic used was enrofloxacin (Baytril), and the second was amoxicillin trihydrate (Clavamox.) The eye steadily worsened, and by the 5th week it dramatically began to protrude. The decision was then made to remove the eye (enucleation).

Unfortunately the night before her surgery, Alexandria, began showing signs of respiratory involvement. It is possible that either her immune system had become run down due to the long term infection, or that the infection had entered her bloodstream.

Surgery was preformed as scheduled the next day. During surgery it was ascertained that the problem was a retrobulbar abscess rather than the expected tumor. The exudate found behind the eye was thick and cheesy. After removing the eyeball the abscessed orbit was thoroughly debrided and the eyelid was stitched closed to allow for healing. She continued on high dosage antibiotics.
Outcome
Alexandria did well after surgery and appeared to be on her way to a full recovery when a few days later the respiratory infection worsened and she succumbed.
We believe that if the enucleation would have been performed sooner she would have had a better chance of post-surgical survival.
Photos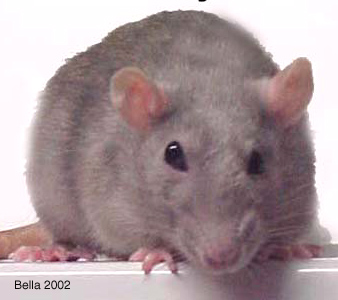 Photo 1: Developing abscess from acute infection.
Treatment was initiated with antibiotics.


Photo 2: Diagnosed with retrobulbar abscess.
Antibiotics were continued aggressively.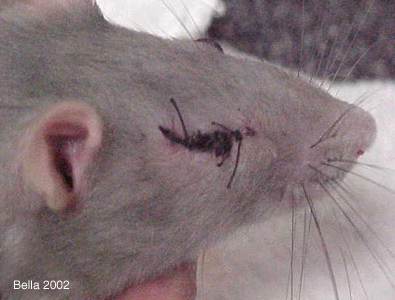 Photo 3: Post-op enucleation of eye.
In short, retrobulbar abscesses can be difficult to treat at best. They not only require antibiotic therapy for an extended period, but enucleation of the eye with excision and debridement, as seen in these photos, will likely be required. The prognosis for survival is considered very guarded.
Photos courtesy of Bellaratta's Nest Rattery