Figure 5: Carriers and hospital cages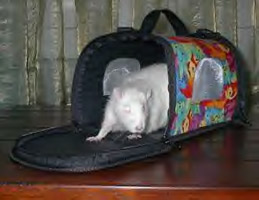 Kristin's pet rat Stu! is shown here next to his carrier for his trips to and from the vet.
It is wise to always take a carrier with you in the event your rat must stay at the veterinarian's office for treatment and/or observation. Many times vet clinics do not have sufficient carriers of their own to keep small animals in. Providing your rat with a familiar environment while he is away from home will help keep his stress level lower.
This is a small cat carrier that works well for both visits to the vet and to act as a hospital recovery cage. Access is easy from both top and sides, allows viewing, and is one level for those rat's that need to refrain from climbing due to surgery or illness.

Hospital cages and carriers can be handmade from large medium tupperware or rubbermaid containers. Just be sure that there is adequate airflow, safety in containment, and high visibility to be able to observe care.