Introduction to the Medication Guide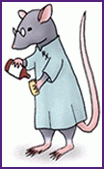 The Rat Medication Guide section of the Rat Guide is designed to provide basic information only, in order to help rat owners better understand the medications prescribed by their veterinarian. Information found here should not be used for any other purpose.
Only a qualified doctor of veterinary medicine should diagnose, treat, or prescribe medications for your rat.
As the author of the Rat Medication Guide section, I have made every effort to double-check the data, to reference valid resources, and to keep medication information updated. The drugs are listed in their respective categories and subcategories by type of agent, class, or family the drug belongs to.
The Rat Guide, its associates, affiliates, this author and owner, assume no responsibility for the reader's misuse of this information.
If your rat is ill please seek the advice of your veterinarian prior to the use of any medications. It is also advisable to check with a pharmacist if you intend to use, or mix more than one medication together in order to ensure safety in administration.
This guide is adjunctive to the RMCA Drug Chart.
I have provided a Conversion and Calculation Chart to assist you with the information provided within the Rat Medication Guide.
There is also a listing of References and Resources referred to in the Rat Medication Guide.